PRESS RELEASE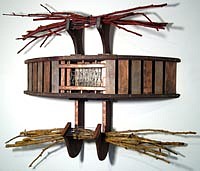 November 10, 2006 - December 2, 2006
Opening Reception: Friday, November 10 from 5-8 pm
EXHIBITION STATEMENT
Every day, all day, we face a stream of predicaments:
turn left or turn right, leave now or leave in ten minutes, wear gloves or bare hands, choose nails or choose screws,
move the worm to the moist grass or leave it on the dry pavement, let someone take a parking space or claim it for yourself, feel anxious or let the feeling fade away, eat tuna or tofu,
order regular or decaf, shake hands or hug, speak your mind or remain silent, put on sandals or shoes,
drink the water or pour it on a flower, pay now or pay later, say "you look nice today" or say nothing, choose green or choose blue,
sing or hum, sail or motor, walk or run, swim or float, sit down or keep moving.
What we choose from moment to moment is what gives our lives shape. We are constantly sculpting our existence.
My work reflects my choices as I engage in the creative process—a predicament of my own making. The shapes, colors, materials, textures, and imagery are a result of my left turns and right turns, of my swimming and floating, of my voice and my silence.
My predicaments persist…. I embrace them.