PRESS RELEASE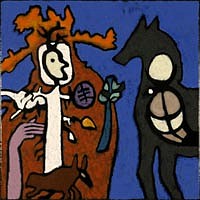 April 8, 2011 - May 7, 2011
The Art Spirit Gallery is proud to open the 2011 ArtWalk season with "New Work by 13 Artists". The opening reception is on Friday, April 8 from 5-8. Everyone is welcome at this family friendly event in Downtown Coeur d'Alene. The show runs from April 8 through May 7.


The 12 participating artists are: • Harold Balazs • Victoria Brace • Kathleen Cavender • Dara Harvey • Michael Horswill • Ben Joyce • Tyree Kearns • Melissa Lang • Mel McCuddin • Barbara Pleason Mueller • Kay O'Rourke • Claudia Pettis and • Nathan Sowa.


There will be a painting demonstration by Nathan Sowa in the gallery on Saturday, April 9 from 1-4.


Call (208)765-6006 or visit our website at www.TheArtSpiritGallery.com.
Open Tues. - Sat. from 11-6. (Please note that our hours will change to 7 days a week again in June.)


This show is sponsored by Terra Sports at 517 Sherman Avenue in downtown Coeur d'Alene. We thank them for their support of the arts and their dedication to the healthy lifestyle of our community through cycling.
…………………………………………………………………


For the past 14 years The Art Spirit Gallery has brought monthly changing shows of original art for the community to enjoy and support our local and regional artists. In 2011 we have another great lineup of shows. We hope that you can make it to the opening receptions and meet the artists. The openings are in conjunction with the 2nd Friday Downtown ArtWalks, brought to you by The Coeur d'Alene Arts & Culture Alliance.