PRESS RELEASE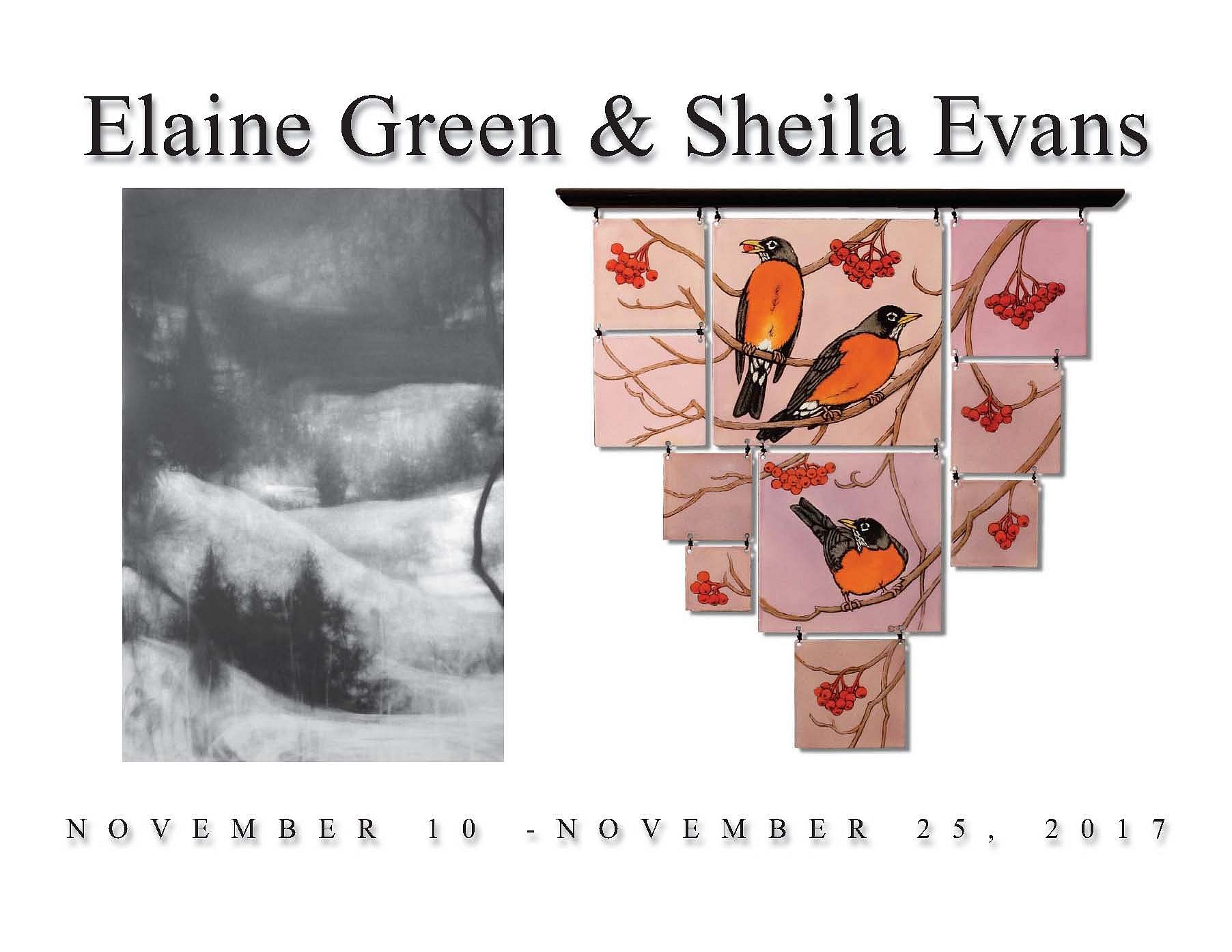 Inspiration can come in many forms – inspiration through religion, inspiration through people, inspiration through music. Spokane artists Sheila Evans and Elaine Green find inspiration in nature. And for the November exhibition, each expresses her love and respect for the natural world that envelops us all.
Animal welfare and the environment are two of artist Sheila Evans' greatest passions. And in her new body of work, Sheila Evans pays homage to the animals with whom we share the earth. "My work serves as both a love song and an apology," states the artist. "It's a celebration of the animals' grace and beauty tinged with sadness over our treatment of them and the environment in which they live."
Evans received her BFA from Gonzaga University, and has called the Pacific Northwest home for the majority of her life. Accomplished in many mediums, including pastels and oils, Evans uses vitreous enamel on metal – a relatively new medium added to her repertoire - to showcase the birds and esteemed animals she respects. Some images are created on multiple small steel panels and are wired together to form larger, more intricate works. In Backyard Totem, for example, various animals, birds, and flowers occupy the main panel and join with the others to create a medley of backyard visitors. Other images are fired onto "re-intentioned" steel butcher trays, honoring the animals represented by changing the tray's purpose. "I am drawn to enamel because of its challenge and durability. Unlike pastels and paintings, enamel pieces are as at home outside in nature as they are inside."
Like Evans, Elaine Green uses art to communicate a message to the viewer. "Art is my way of looking at the world and representing it in such a manner to call the viewer's attention to something that may not be otherwise apparent." For November, Green will reveal her Beached series, inspired by a recent walk along the Oregon coast in which she sauntered upon a carcass of a beached whale. Various theories circulate as to why this is happening – the mass beaching of whales - but scientists don't have a confirmed explanation. "With this series, I like the mystery, the displacement, and the human reaction of total disregard for what's happening – perhaps a metaphor for things we do not wish to see." In this body of work, Green incorporates scanned and printed images of various beach scenes – including St. Joe Beach, and uses charcoal to draw beached whales in space left intentionally void.
Born in St. Maries, Idaho, Elaine Green has spent the majority of her years in the Pacific Northwest and has earned degrees from area institutions – a CFA from Spokane Falls Community College, BFA from Eastern Washington University, and MFA for the University of Idaho. When discussing her diversity as an artist, Green credits her degree at Spokane Falls Community College for providing the opportunity to concentrate on art in all its forms. "It forced me to expand my art experience, exposing me to a variety of media in two and three dimensional formats. I discovered that I like it all, which makes it hard to limit myself." To Art Spirit Gallery patrons, Green is most admired for her mystical, beautifully haunting charcoal drawings, many of which will be highlighted in November's show along with the Beached series. According to the artist, "What I love most about charcoal is the absolutely visceral connection between my body and the image on paper. I like to use my hands to push charcoal around. It begins as such a wild mess and occasionally surprises me . . . that's the best part!"