PRESS RELEASE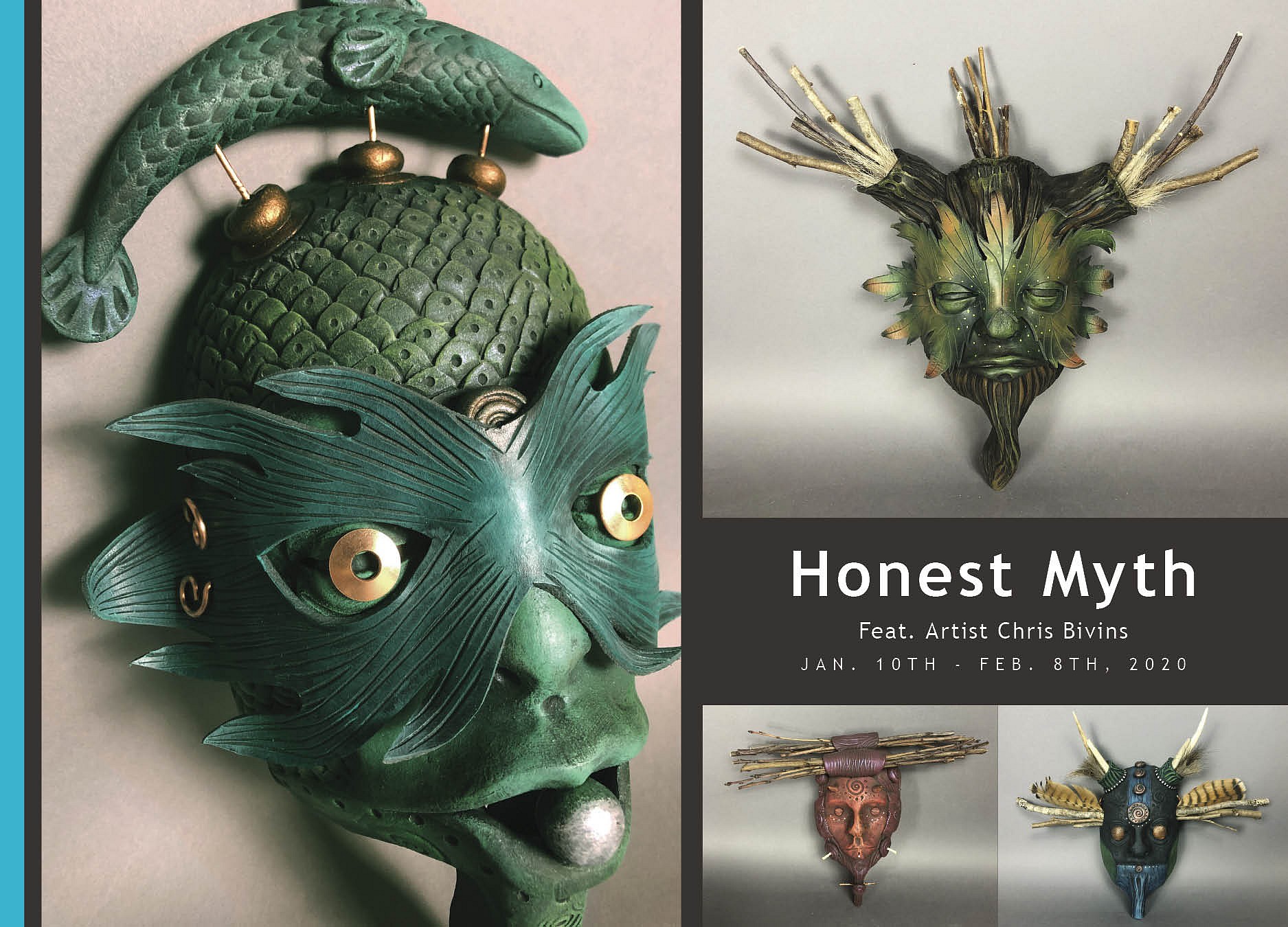 Show Date: January 10 – February 15th
Opening Reception: Friday, January 10th from 5-8 pm
Winter Gallery Hours: Tuesday through Saturday from 11 am – 6 pm
January 10th, Friday (Coeur d'Alene, ID) – The Art Spirit Gallery presents a mischievous yet mysterious show featuring the artwork of artist and sculptor Chris Bivins. This January also marks the Third Annual Loft Sale, which will run for the duration of the "Honest Myth" show.
__________________________________________________
ABOUT THE ARTIST
Chris Bivins – Eatonville, WA
For Chris Bivins, art is a necessity. "People ask why I make art and my answer is always the same; because I have to". Creating masks, statues, and paintings out of multiple different objects, Chris's artworks showcases a wide variety of how everyday things can become something larger than the sum of their parts.
Chris traces his beginnings in art back to the young age of four, where he would watch his brother draw people and figures with magic markers. Since then, Chris has gone on to create artwork that is simultaneously fun and playful while also maintaining of sense of darkness and mystery.
Bivins begins many of his figures by carving a 2 x 4 into a rough torso shape. He has a natural flair for combining just the right mix of twigs, vintage finds and newer materials like polymer clay that become heads, arms and legs. At the end of the process, artwork that engages the audience to study its found-object form and enjoy its sense of playfulness is made.
__________________________________________________
As well as featuring artwork for Chris Bivins, the gallery will be showcasing its Loft Super Sale of Art. This sale will present the artwork of many different artists throughout our gallery while also featuring their work at a discounted price.
The artworks in the exhibition will be on our website beginning Tuesday, January 7th at http://www.theartspiritgallery.com/exhibitions.